10x10 ft. DEA-MiniCage™ is a DEA Approved Drug Storage Cage w/ Swinging Door
Our 10 x 10 x 8 DEA-MiniCage™ features a single, self closing door with key lock, panels, posts and shipping / freight to your facility.
WireCrafters Style 840 Partitions meet the US Drug Enforcement Administration's (DEA) requirements for physical security of Schedule III through V controlled substances as outlined in Title 21 CFR Sections1301.72-1301.76 physical security controls.
This drug storage application of WireCrafters wire partitions is ideally suited for pharmacies, pharmaceutical companies, medical facilities, distribution centers, record storage, drug warehouses, and much more.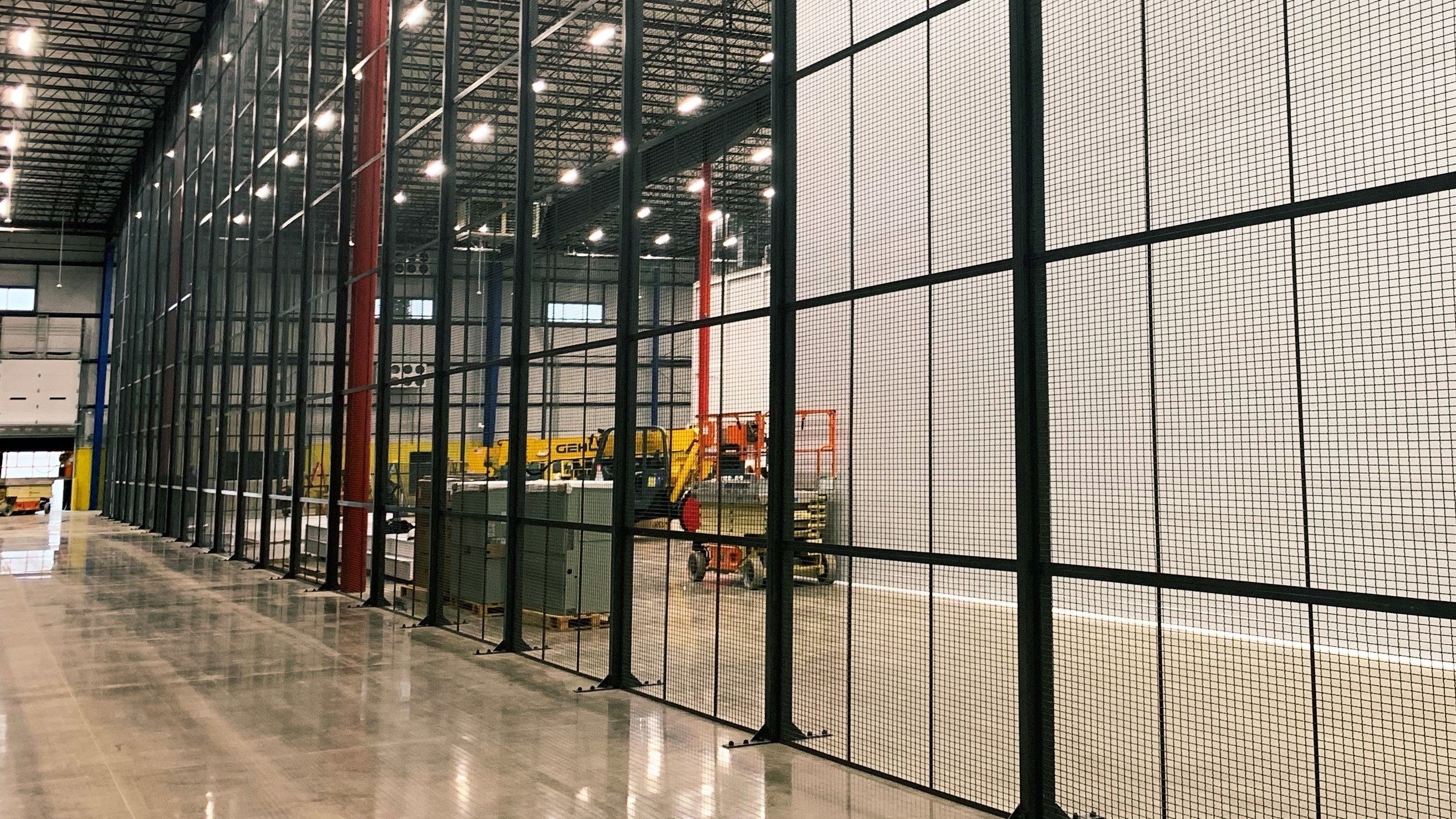 Custom upgrades and options are available including doors, access control locks, and special colors / finishes


Call today (866)867-0306 for special pricing, custom design & build or built to your plans and specifications.
Specifications
Details
Product Description
Additional Information
Reviews
Product Tags
Base External Dimensions - 10'W x 10'D x 8'H
DEA Approved Cage for storage of Schedule III-IV Controlled Substances
Four Sided Cage with Ceiling Panel
Self closing, self locking 3'W x 7'H hinged door (Optional 5'W x 8'H Sliding Door)
Wall & ceiling panels constructed of 10 gauge wire
Steel support posts 2" square
Posts have welded on base plates for lagging to the floor
Posts are set no more than ten feet apart per DEA requirements
Walls have minimum 1-1/2" horizontal reinforcement at least every 60 inches
Standard mesh has 2"x1" rectangular opening
Panels mount flush to floor
Heavy 3/8" hardware non-accessible from the exterior
Additional Freight Charges Apply
Electric Strike or Mag Lock add-ons are optional
Also available in 10'H and 12'H standard sizes
*Custom sizes are common and available. Email us at contact@klsecurity.com to request pricing for a custom solution to meet your exact needs.
10x10 DEA MinCage is a Four-Wall Cage with Single Hinged Swing Door and Key Lock designed, built and installed to DEA Specs for Physical Security and Access Control
10' L x 10' W x 8 ' H with Ceiling Panel
Actual Dimensions: 10'-4"L x 10'-4"W x 8'-2"H
Partition Panels

Shall be 10gauge steel wire crimped and woven in to 2" x 1" opening rectangular mesh, securely welded into a frame of

1 1/4"

x

1 1/4"

x 1/8" steel angle factory punched with 7/8" x 7/16" slotted holes to accept 3/8" mounting hardware. Panels four to six feet wide shall have one 1/4" x 3/4" flat stiffener, wider panels receive two 1/4" x 3/4" stiffeners. All panels shall be fastened to posts with 3/8" x 3" plated bolts and nuts.
Hinged Doors

Hinged shall be constructed of the same materials as the panels with two 1/4" x 3/4" horizontal stiffeners across the width, and two diagonal 1/4" x 3/4" stiffeners from center to the corner. Hinged doors shall be equipped with padlock lugs (cylinder lock optional), three 4" x 4" spun pin hinges, and pick plate/slam bar assembly. Doors are self-closing and self-locking.

Posts

Shall be made of 2" x 2" x 14 gauge steel tubing. Base plates of 2" x 7" x 1/4" steel flat with two 7/16" round holes for anchoring, shall be welded to each tube. Posts are factory drilled with 1/2" holes to accept hardware for mounting panels.
Hardware

Shall be 3/8" standard thread grade two plated nuts and bolts. Floor anchors are 3/8" wedge type-provided.
Finish

Non-plated parts receive one coat of gray acrylic enamel. Touch up paint included with each shipment. Special / custom finishes available including powder coated & custom colors.
Details
Our standard 10 x 10 DEA approved drug storage cage with self closing swing door will meet DEA specs for physical security of controlled substance ares for schedule III, IV and Schedule V drugs and substances.
You may also be interested in the following product(s)